Become a National Service Project volunteer
One of the most exciting parts of our YMCA Alumni National Service Project — beyond the impact we will help the YMCA of the Seven Council Fires make throughout its far-flung tribal communities — is the involvement of our members in a wide variety of volunteer roles over successive years. Many will come to South Dakota from all over the country for week-long stays building the homes. Volunteers will coordinate YMCA Alumni chapter involvement and so much more.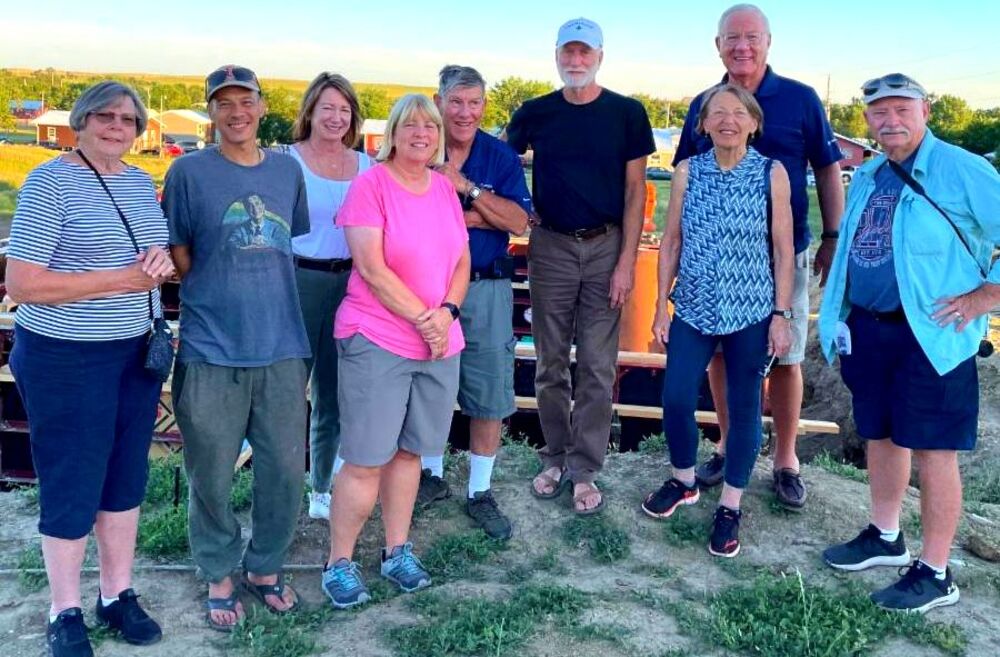 Current volunteer opportunities

Onsite Crew Member (building Tiny Homes and "Twigs") RED FORM
Volunteer Intake Manager BLUE FORM
Orientation and Training Team Member BLUE FORM
Fundraising Team Member BLUE FORM
Donor and Volunteer Recognition Team Member BLUE FORM
Other skills that may have value BLUE FORM
Open to placement where needed most BLUE FORM

Please fill out the BLUE form below labeled National Service Project Volunteer Application for all positions EXCEPT Onsite Crew Member. Fill out the RED form below labeled 2023 Registration Form For Construction Workers.
Thank you 2022 onsite
construction volunteers

Volunteer Construction Manager: George Painter

Wave 1

Carmelita Gallo
Peggy Givens
Patty Kellerman
Richard Kellerman
Maureen Schneider
Jody Skelton
John Skelton
Lynne Vaughan
Wave 2

Myah Baird
Mary Blalock
Kinsey Colby
Calvin Hill
Jade Kiang
Kaylie Langer
Mollyrose McCarthy
Emily Tonning
Benjamin Morales
Wave 3

Valerie Cahill
Linda Dean
Kim Decker
Lou Falk
Jan Leigh
Jim Leigh
Mike Robinson
Sharon Robinson
Vincent Wigh
Wave 4

Connie Clark
John Clark
Rosemarie Cushing
Robert Cushing
Alan Hurst
Denise Rowe
Steve Rowe
Vincent Wigh
J udy Wurtzbacher
Sam Wurtzbacher
Wave 5

Philip Anderson
John Clark
Helen Cheney
Cheri Choy
Julie Gallanty
Bonnie Graham
Gary Graham
Maureen Haley
Jan Keny
Xiomara Larios
Regan Orillac
Pamela Power
Richard Price
David Rogers
Marty Rogers
Jean Santopatre
Dylan Santopatre Freeman
Richard Scott
Lyn Stevens
Wes Sturgis
Nate Trauntvein
Olivia Trauntvein
Wave 6

Nancy Bonell
Laurie Garbacz
David Geist
Alan Hurst
Bruce Macdonald
Danny Maier
Dan Sager
Marylyn Sager
Construction Team
(aka Boots on the Ground)

George Painter, Chair * Linda Dean * Lou Falk
Steve Gunn * Bob Martin * Harry Rock* Dan Sager
Bob Smeenk * Rich Wallis

Marketing Team

Paul Andresen Chair * Craig Altschul, consultant
Cheri Brennan * Harriet Hoskyns-Abrahall
Mike Robinson * Harry Rock, Facebook

Marketing chapter liasons

Cheri Brennan * Cathy Fromm * Mike Grady
Bob Heger * Don Kerr * Dennis Morhman
Wayne Uhrig
Volunteer Engagement Team

Linda Dean, Chair * Nels Bagnardi * Don Gardner
Volunteer Chapter Liaisons

Anthony Delisio * Mike Ellis * Linda Garcia
Jeri Glick-Anderson * Nels Bagnardi * Gigi Woodruff
Deb Zvanut
Orientation, Training Team

Linda Dean, Chair * Linda Garcia * George Painter Jody Skelton
Fundraising Team

Gary Graham, Chair * Vanessa Boulous
Janice Carthens * Kathy Dunn * Lou Falk
Carmelita Gallo * Don Gardner * Mike Graves
Cindy Koenig * Harold Mezile *Bill Moss
Mike Robinson * Steve Rowe * Rich Wallis
Nick Zimmer
Recognition Team

Nels Bagnardi, Chair * Cheri Brennan * Linda Dean
Alane McCahey * Ann Nischke
Frequently Asked Questions/Volunteering
Who recruits and trains volunteers?

The Volunteer Sub-committee has developed a recruitment and training plan which includes all the elements of volunteer engagement. Chapter Reps will recruit a member that will assist in recruiting volunteers from each chapter.
What are volunteer off-site roles?

Volunteer roles and position descriptions and an email request for more information are listed above. Simply click on the buttons for a printable PDF. An application form is also available on this page.

How about safety and culture?

A Volunteer Safety Manual has been developed and all onsite volunteers will receive an orientation which includes cultural information prior to traveling to Dupree. It will be continued on arrival.
How do I volunteer to be part of construction team?

Click to the project tab on this website and scroll to "Join us as a construction volunteer on site in 20223" Click for info.